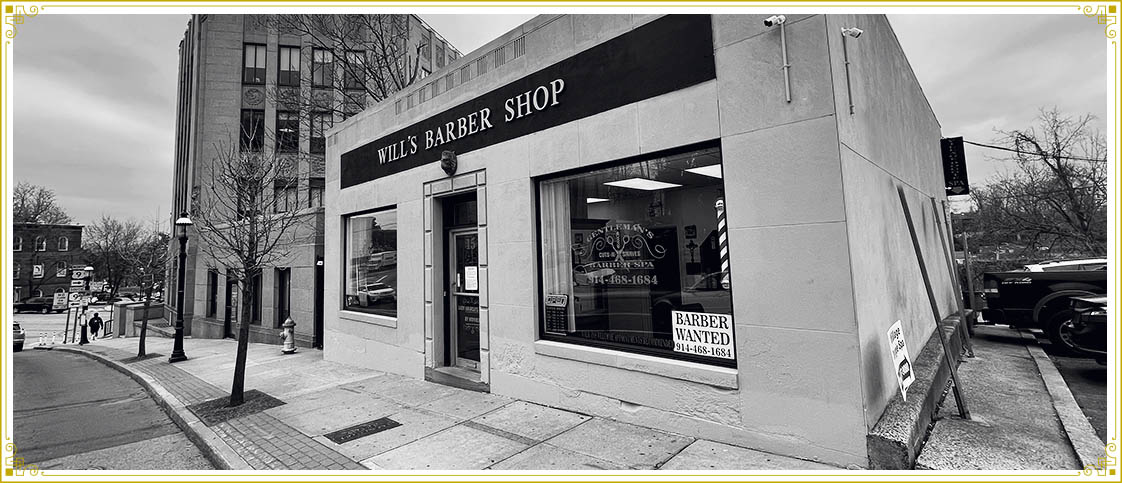 About Us
Back in the day, our fathers and grandfathers took a break from their busy day by visiting their local barber shop. They knew that by the time they walked out the door they'd be caught up on what was happening in town, how the local sports teams were doing and look damn good as well.
Located in downtown Ossining, Will's Barber Spa opened in 2019 to offer our clients a place to sit back, relax and experience a bit of old school charm like their fathers and grandfathers used to.
From the moment you sit in the chair, our Master Barbers will take you back to the age of classic barbering, spending the time to ensure that your haircut is exactly how you want it. We look forward to serving you and hope that your experience will keep you coming back for more old school charm.
I have always wanted to create a great atmosphere for everyone — literally everyone. I wanted a shop where people feel comfortable, appreciated and welcome as soon as they walk in the door.
Come in, grab a drink, a bottle of water or a coffee, and relax. Will's Barber Shop & Spa revolves around our customers — they come in stressed and leave looking and feeling great.
_Wilmer Campoverde
COVID19 Protocols
Due to the ongoing pandemic, we will be adhering to strict safety guidelines to ensure the health and well-being of both our customers and our staff.
With that in mind please follow these guidelines:
If you are experiencing any Covid-related symptoms, please stay home and call us to reschedule your appointment.
Upon arrival, please remain in your vehicle until your designated appointment time.
Once inside the building, we will sanitize your shoes and ask that you sterilize your hands with the provided sanitizer.
Keep your mask on throughout your appointment, we will ensure that it does not interfere with your cut.
Hours of Operation:

| | |
| --- | --- |
| MON | 9AM TO 6PM |
| TUE | 9AM TO 6PM |
| WED | 9AM TO 7PM |
| THUR | 9AM TO 6PM |
| FRI | 9AM TO 7PM |
| SAT | 8AM TO 5PM |
| SUN | CLOSED |